We're wrapping up our week filled with ideas for spring accessories!
We've had Ipod cases, hair accessories, jewelry, bookmarks and today…we have a few more ideas.
All are able to be made for gift giving for Easter holiday or put on your list for upcoming Mother's Day! It's easy when you use Epiphany Crafts products and embellishments!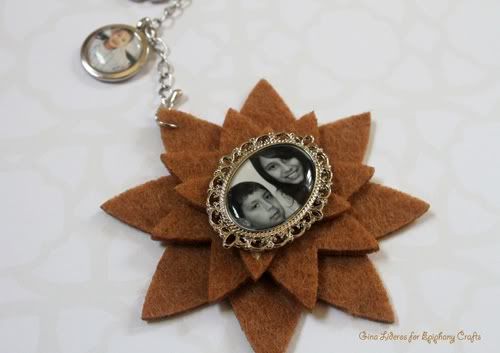 Personalized Key Chain by Designer Gina Lideros
Epiphany Crafts supplies:
round 14 shape studio tool,
oval 25 shape studio tool
round 14 bubblecaps
oval 25 bubblecaps
oval 25 metal setting
round 14 metal setting
round 14 charm settings
star flower – Adobe
other supplies: keychain, jump rings (craft supply)
Spring Necklace by Designer Katarina Damm-Blomberg
Epiphany Crafts Supplies:
SST-14 round 25
Charm settings round 25 silver
bubble caps Round 25 acrylic
sticker-SRM
patterned paper-Fancy Pants
Twine Caribbean-The Twinery
lace
feathers
ball chain
vintage clock charm
Ceramic Easter Egg Decoration by Designer Katarina Damm-Blomberg
Epiphany Crafts Supplies:
SST-02 round 14
vintage setting Cabana
Other Supplies:
ceramic egg
Mists-Shimmerz
Distress stains-Tim Holtz
satin ribbon
feather
flower-youdo

Spring Flower and Bunny Pendants by Designer Julia Sandvoss
Epiphany Crafts Supplies:
Epiphany Crafts Round 25 Studio Shape Tool, Bubble Caps
Epiphany Crafts Scallop Charm Settings (available online and in store at Archiver's, Jo Ann's and Hobby Lobby!)
Other Supplies:
We R Memory Keepers Paper Collection
Chains (from Hobby Lobby)
GlueArts Adhesive Squares (www.gluearts.com)
These are as easy as 1,2 and yes…3..
1. Select your design…line up you Epiphany Crafts Tool…place a Bubble Cap inside.
2. Punch out design
3. Using GlueArts Adhesive Squares adhere to Charm Settings..
Don't forget to post a comment today! 
Leave us a comment today! We'll enter you to win some goodies to help you create and craft! Simply post a comment today  about today's crafts, or perhaps what is your favorite Easter candy…or just what you look forward to the most about the holiday. We'll pick one random winner from the comments and announce that here next Monday to win our Epiphany Crafts Shape Studio Scallop Tool and a matching set of our Scallop Bubble Caps!