One thing is for certain for many of us this summer…we've had plenty of sunshine and plenty of hot hot weather!
Which means we must find ways to cool off and still have fun!
Designer Gina Lideros has a layout for you today celebrating all that summery fun!
Notice how she used our Epiphany Crafts Scallop and Round 25 Tools for flower centers!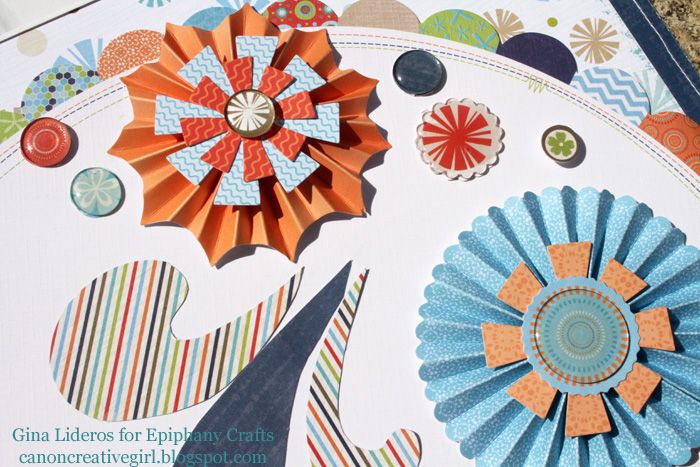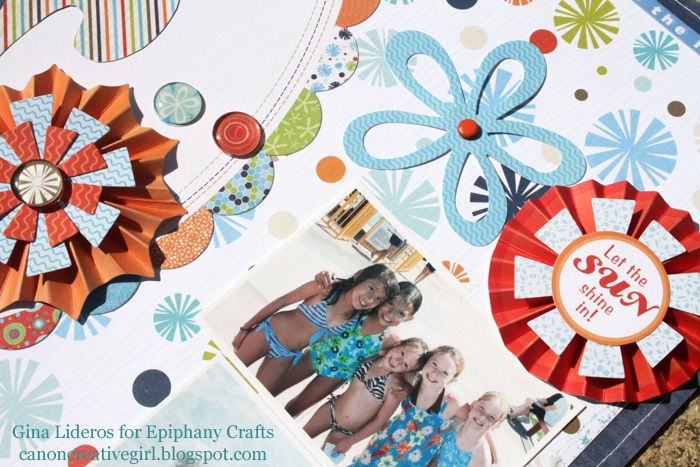 Let The Sun Shine Layout
by Gina Lideros
Epiphany Crafts Supplies: 
Epiphany Crafts: Scalloped 25 shape studio tool, scallop 24 shape bubblecaps, round 14 shape studio tool, round 14 bubblecaps; round 25 shape studio tool, round 25 bubblecaps
Other Supplies:
Little Yellow Bicycle Splash collection: papers, stickers, flowers, brads
other supplies:
Brother sewing machine, thread (Guterman); pen (Zig)
So are you a fan of Little Yellow Bicycle! How about their new Splash collection?
The kind folks at LYB sent us some goodies to offer to you..and we're tucking in our NEW Epiphany Crafts Flower Shape Tool!
   So post a comment today…let us know how you like the projects or perhaps where you've created a "splash" this year!!
We'll gather all the comments left this week and next and pick a random winner!!
Be sure to stop by the Little Yellow Bicycle blog all this week for more ideas and ways to win!
Interested in joining the Epiphany Crafts Design Team?
Well here's all the details!
It is that time again to start looking for new design team.
We are looking for 10-15 Designers for the Epiphany Crafts Team.
****International Applicants are Welcome!
 We provide for all of our design team members:
Exclusive previews to any of our upcoming products
Payment for Projects Published in Magazines
Name, Bio and Gallery on our Blog
Link to your own personal blog from our Blog
Private Message Board from DT members only
Compensation for projects used at trade shows or in on air presentations.
Requirements for design team members:
6 month term (October 1, 2012 – April 1, 2013)
1 tutorial a month (photo or video + photos)
2 layouts/card/projects or video a month
Participate in Challenges
Post your project on your blog and galleries
Post on our Facebook Page
Able to meet deadlines
To apply:
Submit 4 layouts/card/projects that best represent your style. One project should show a creative use of buttons and/or epoxies.
Provide us with your Name, Address and Email
A link to your scrapbook galleries
Mention any current or past design teams
Short Bio about you
A link to your blog
Please send your entries to: JSandvoss@epiphanycrafts.com
Deadline is Sunday, August 19th
We will announce our new Design Team members on August 31st or sooner!