I'll admit it….loved the movie Finding Nemo!
And the sweet phrase…just keep swimming!
Sometimes those sweet lines from some of our favorite movies, have a way of penetrating our lives.
Designer Amanda Coleman made this fun project today! Perfect for a wall hanging, maybe a fishy themed kids bath or a back to school teacher gift!
And look how our Round Tool makes just the perfect bubble!
Just Keep Swimming by Amanda Coleman
Epiphany Crafts Supplies:
Shape Studio Tool Round 14
Shape Studio Accessories Round 14 bubble caps
Other Supplies:
Little Yellow Bicycle Splash collection papers
Little Yellow Bicycle vellum tape strips
Jillibean Soup alpha stickers
Designer Notes: 
Do you ever freak out a little bit when you see a print that you just love? Well, that's what happened to me when I saw the chubby, graphic fish in LYB's Splash collection. It was as though they were just screaming, "Fussy cut me!". So, that's what I did.
The same print that had the fish also had bubbles which look just perfect as a custom EC Round 14 embellishment.
And how about that seaweed? It's as though the fat, little fishies are swimming right through it. I free-hand cut a green chevron LYB vellum tape strip to make the seaweed.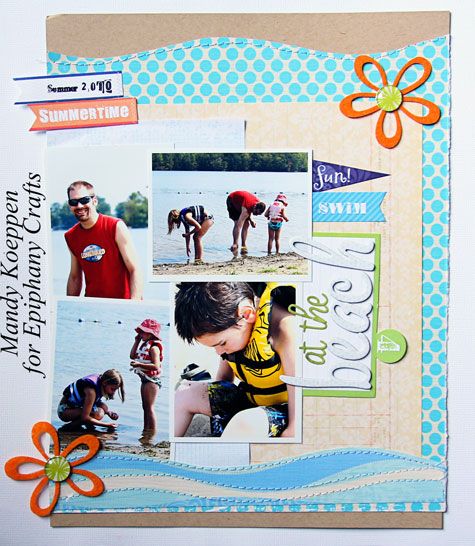 At The Beach Layout by Mandy Koeppen
Epiphany Crafts Supplies:
Epiphany Crafts Supplies
Shape Studio Tool Round 14
Shape Studio Accessories Round 14 bubble caps
Other Supplies
Little Yellow Bicycle Splash collection papers
Making Memories Stamp
Prima Chalk INk
American Crafts Thickers
Websters Pages Mini Alpha
Singer Sewing Machine
So are you a fan of Little Yellow Bicycle! How about their new Splash collection?
The kind folks at LYB sent us some goodies to offer to you..and we're tucking in our NEW Epiphany Crafts Flower Shape Tool!
   So post a comment today…let us know how you like the projects or perhaps where you've created a "splash" this year!!
We'll gather all the comments left this week and next and pick a random winner!!
Interested in joining the Epiphany Crafts Design Team?
Well here's all the details!
It is that time again to start looking for new design team.
We are looking for 10-15 Designers for the Epiphany Crafts Team.
****International Applicants are Welcome!
 We provide for all of our design team members:
Exclusive previews to any of our upcoming products
Payment for Projects Published in Magazines
Name, Bio and Gallery on our Blog
Link to your own personal blog from our Blog
Private Message Board from DT members only
Compensation for projects used at trade shows or in on air presentations.
Requirements for design team members:
6 month term (October 1, 2012 – April 1, 2013)
1 tutorial a month (photo or video + photos)
2 layouts/card/projects or video a month
Participate in Challenges
Post your project on your blog and galleries
Post on our Facebook Page
Able to meet deadlines
To apply:
Submit 4 layouts/card/projects that best represent your style. One project should show a creative use of buttons and/or epoxies.
Provide us with your Name, Address and Email
A link to your scrapbook galleries
Mention any current or past design teams
Short Bio about you
A link to your blog
Please send your entries to: JSandvoss@epiphanycrafts.com
Deadline is Sunday, August 19th
We will announce our new Design Team members on August 31st or sooner!