We hope you had a good Easter Holiday and enjoyed the past weeks projects!
We're kicking off a brand new week with a brand new sponsor!!
Please welcome Die Cuts With a View or as many of you know them DCWV!
DCWV sent to our talented team stacks and stacks (no kidding) of their amazing papers! All this week and next we'll be sharing with you idea for layouts, cards, mini books and yes…this amazing projects from Designer Amanda Coleman!! Notice how she used our Epiphany Crafts Buttons to make the stove burners!!!!!!!!!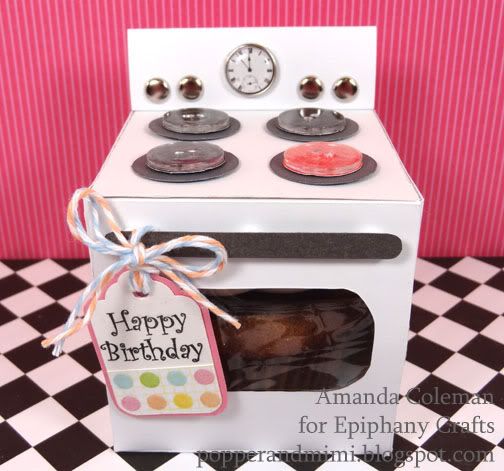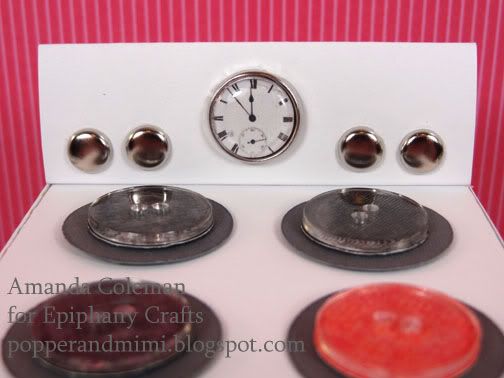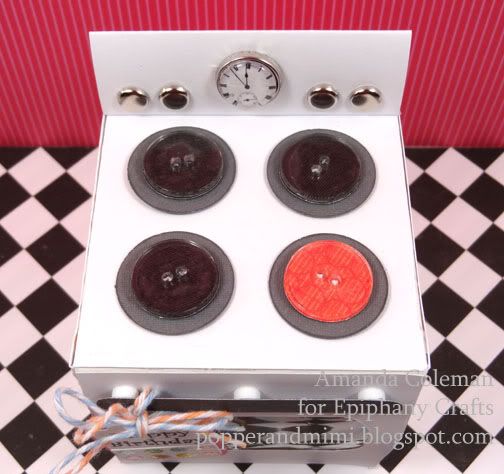 Birthday Stove Box by Designer Amanda Coleman
At first glance, this little oven box appears unassuming, but there's a party happening on the inside! Take a peek…
Designer Notes: I used one 12″x12″ sheet of printed cardstock, scored it, cut it, and turned it into a box. I wanted the oven to be white, so I folded the print to the inside. I cut out a window and added a bit of cellophane, too. The box measures 3″x3″x3″ (not including the control panel) which is the perfect size for a gourmet cupcake.
The control panel is embellished with 4 small brads and a custom Round 14 brad and bubble cap. The stove burners are made with Button Studio Tool Round 20 and buttons. Each burner sits on top of a 1″ gray circle.
While this gift box is all dolled up for a birthday, you could just as easily turn it into a "Bun in the Oven" gift for someone who is expecting a baby. Or, for those of you with young children, it could also be a play oven.
Epiphany Crafts Supplies:
Button Studio Tool Round 20
Shape Studio Tool Round 14
Shape Studio Accessories Bubble Caps Round 14
Button Studio Accessories Button Round 20
Brad Settings Round 14
Other Supplies:
Polka dot paper, cardstock (DCWV)
Clock print (KaiserCraft)
Brads (American Crafts)
Baker's twine (The Twinery)
Stamp (Hero Arts)
Ink (ColorBox)
Glue Dots
Glue Arts Perma Tac tape runner
1″ circle punch (EK Success)
And the birthday celebration continues with this bright and colorful layout from Designer Mandy Koeppen! Look how she used the Round and Oval Shape Tool for the balloons and yes…that's our NEW Pennant Tool as well for the cute pennant swag!
Wishes for Her Layout by Designer Mandy Koeppen
Epiphany Crafts Supplies:
Epiphany Crafts Round25 Shape Studio
Epiphany Crafts Round25 Bubble Caps
Epiphany Crafts Round14 Shape Studio
Epiphany Crafts Round14 Bubble Caps
Epiphany Crafts Vintage Settings Clubhouse
Epiphany Crafts Pennant25 Shape Studio
Epiphany Crafts Pennant25 Bubble Caps
Epiphany Crafts Oval25 Shape Studio
Epiphany Crafts Oval25 Bubble Caps
Other Supplies:
DCWV "The Celebration Stack" Pattern Paper
American Crafts Thickers
The Stringery Etsy Shop Burlap Twine
American Crafts Dear Lizzy Roller Date Stamp
Hampton Art Studio G Mini Alpha Stamps
Prima Chalk Edger Ink
Zig Millennium .o3 Black Pen
We hope you'll join us all this week and next as we show you creative ways for using our Epiphany Crafts Tools and accessories along with Die Cuts With a View paper and Blue Moon Beads!
It's Monday so that means it's time to announce last week's Easter winner of the Scallop Tool. That winner is:
kristi garrett says:
Peeps!! Love them! Love how the boots!
Congrats Kristi! Please email us at Cbrumley@epiphanycrafts.com with the subject line "Scallop Tool Winner"
We'll see you all right back here tomorrow….get ready to bring a friend for a bit of fun!