Here's the perfect way to kick off the year on a good note AND get on the good side of your teacher!
Bring him or her their own personalized pencil cup!
It's the perfect way to keep all those supplies organized and well make you look good too!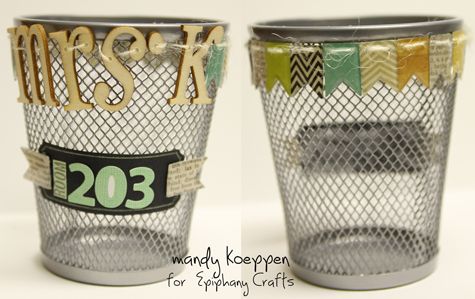 Teacher cup by Mandy Koeppen
Can be used for Pencils, snacks, Misc items.
Epiphany Crafts Supplies:
Epiphany Crafts Pennant25 Shape Studio
Epiphany Crafts Pennant25 Bubble Caps
Other Supplies:
Echo Park Pattern Paper
The Stringery Twine
American Crafts Stickers
Sassafras Lass Stickers
Cup from Dollar Tree
Dremel
Headed to do some shopping at Michaels Craft Stores? Don't forget they now carry our Epiphany Crafts Round 25 and Square 25 Tools along with our Bubble Caps and Charm Settings!
Print off a coupon from our friends at The Craft Mom to help your dollar stretch even more!